How to Integrate the Bible Into Your Child's Day
The Scriptures command parents to saturate their homes in His Word: "…these words that I command you today shall be on your heart. You shall teach them diligently to your children, and shall talk of them when you sit in your house, and when you walk by the way, and when you lie down, and when you rise" (Deuteronomy 6:6-7)
Here are 10 practical ways to live this out.
"When You Rise"
1. Help your child establish a morning prayer time – Devote serious time to figuring out the best way for your child to spend quality alone-time with God. Length of time doesn't matter nearly as much as just the habit of doing it. When they are young, let them listen to the Bible on CD. When they get older, give them a Bible reading plan or a good age-appropriate devotional.
"When You Lie Down"
2. Maintain a routine of nighttime devotions – It doesn't have to be elaborate: read from the Bible or a children's Bible, talk about what it means, talk about how the passage convicts you personally, and talk about how it helps us to understand God better.
3. Use the Psalms for bedtime blessings – As your kids are drifting off to sleep, use specific Psalms for bedtime prayers. Many are suitable, but some of our favorites are Psalms 63, 121, and 139.
4. Let your kids fall asleep to Christian music – Often our kids will (softly) play Christian music or worship music as they drift off.
"When You Walk By the Way"
5. Use proverbs for on-the-spot guidance – The Proverbs were specifically written as parental guidance to the young. They are pithy, easy to memorize, and quick to recite. What vices do your children struggle with? Pick just 3 or 4 to start. Now find a proverb for each one. Commit them to memory. When a need for correction arises, stop your child, get eye-level with him or her, and recite the proper proverb aloud, discussing what it means.
6. Schedule times of planned service – Involve your kids in service opportunities: running errands for people who are sick or elderly, making food for someone in need, visiting someone who needs encouragement. Find a fitting verse from the Bible for each service activity so your child knows the Biblical reasons for what you are doing.
"When You Sit in Your House"
7. Offer Biblical discernment during media viewing – Pick age-appropriate movies for family movie nights, and make sure to take time to talk after the film is over. For a quick discussion guide, use one of the virtue-and-vice lists found throughout the New Testament, stopping on specific words to ask your kids: "Did any characters in this movie show [specific virtue or vice]? Romans 12:9-21, 1 Corinthians 13:4-8a, Galatians 5:16-26, Philippians 4:8, and Colossians 3:5-17 are great ones to use.
8. Establish traditional mealtime blessings – It is common for Christian families to pray before meals, but start a tradition of using specific prayers from the Bible for mealtime blessings. My favorites are sections from Psalm 104, 136, and 145.
9. Institute a Bible memory time – This can take as little as a minute or two a day when you're starting out, but it can make a huge difference in the long-run. Using something like a Charlotte Mason memory system to keep track of who is memorizing what. You can use this for specific Bible verses, longer passages, and even creeds or catechism questions.
10. Integrate the Bible into school subjects – If you homeschool, this is easy to do. Find curricula that does the integration for you. Since the Bible is a historical book, you can integrate Biblical history into world history. You can talk about the good or bad traits of the characters in the books you read.
When your children are young, you can use the Bible directly when teaching the discipline of handwriting. I created a handwriting workbook for my oldest son using a long passage of the Bible we were memorizing as a family. This has spawned a whole line of Bible copywork workbooks called Write Through the Bible, and they have been a great help to our family.
We recently launched a version for preschoolers and Kindergarteners – kids just learning to write. Like its predecessor, this program is designed to be interdisciplinary.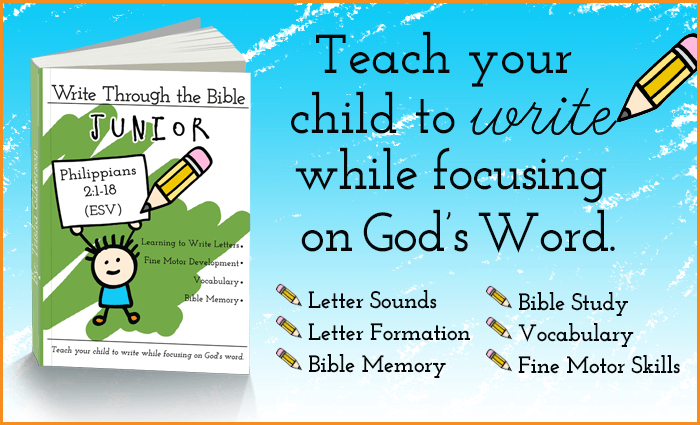 Write Through the Bible, Junior was designed to help busy parents integrate several subjects into one. Below are a few things your child will focus on through the course of this workbook:
Fine motor coordination
Beginning letter sounds
Letter formation
Bible memory
Biblical study
New vocabulary words
We've made this study available in a number of different options including ESV, KJV, and different font styles. You can purchase the digital download or a softcover version on amazon.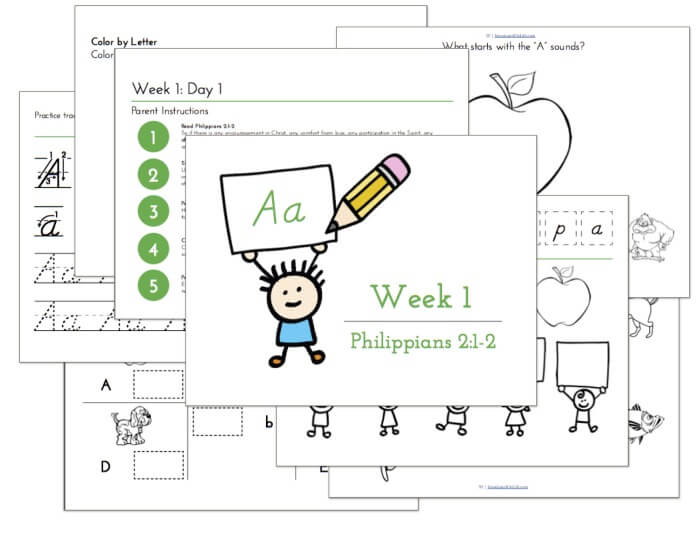 Integrating the Bible into our day takes time and attention, but it is one of the most important things you can do as a parent.
What strategies do you use for integrating the Bible into your children's day?
Blessings,
Trisha Gilkerson